Only the French text of my articles is handwritten. The English version is translated automatically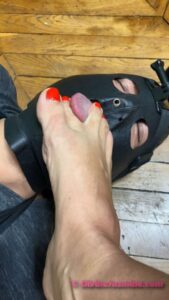 I practice soft BDSM with as much pleasure as hard
I regularly receive calls or messages from submissives who would like to meet me but who are "afraid" that I am too hard on them. Be really reassured on this point. As long as you are courteous, I have no requirements in terms of BDSM practices. Really none.

I take as much pleasure with a freshly washed foot fetishist as with one who likes them very dirty or smelly. Just like facesitting, trampling, corporal punishment, etc ... Some people don't want it at all, others want it to be "suggested" or done in a very soft way, and others will instead want it to be. made explicitly, strongly with brands and very strong sensations.
In the same way, some do not conceive of BDSM without it resulting in a total dehumanization and degradation (by the verb and by the actions), while others will prefer that the things happen in a calm, peaceful, even in joy and good humor ...

Some are content with the symbol, others like strong and explicit sensations. It cannot be discussed. You just need to know this BEFORE so that things turn out for the best.

The best way to ensure that I have the right level of information is to first fill in my bdsm investigation so that I know your fetishes and taboos. Obviously this will not prevent additional written and oral discussions, but it will remove most of the misunderstandings and ambiguities so that our meeting goes as smoothly as possible.
It is true that this questionnaire is a bit long (about 10 minutes) but it is complete and covers the question. If you like soft, all you have to do is put "taboo" on the many very hard questions so that I understand your cerebrality in all its nuances.
As you meet me for a session or for a traineeship of long duration, you will be filled!
I fill out the master form !!!